Partners In Crime
February 3, 2017

Lead VS Harness
November 6, 2017
Dog Friendly Parks In Cheshunt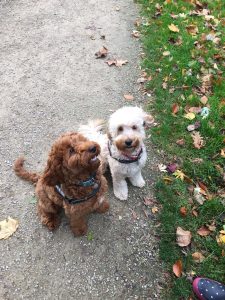 On my routinely morning walk at Cedars Park, I was thinking about how many great parks there are in Cheshunt which you can take your pooch to. Take Cedars Park for instance, it is a fantastic place for you to bring the dog and the family to; with its big fields and scenic lakes as well as its café and petting zoo, it caters to both beloved pets and children. It's buggy friendly, with its gravel paths between the fields and picnic zones, so as to ensure that the whole family can be included and at ease. Penny and Kipper love this park as they are able to be free (off the lead) in the fields and interact with their furry friends safely.
If you are looking for a more one-on-one walk with your puppy then you can always take a leisurely long stroll around Cheshunt Park; it offers wide open fields and windy paths stretching the whole park as well as a few lakes dotted throughout the landscape. This will give you plenty of opportunities for new dog owners to practice recall with their puppies.
If your pooch is more energetic and in need of something challenging, then Lee Valley Country Park is the one for you. This park provides a range of agility based activities, from jumping hurdles to A-frames, your dog will have a wonderful time trying out new tricks and you are guaranteed to have a panting dog to take home by the end of your visit. You are still offered a variety of fields and lakes within this park for your dog to run themselves ragged in. Penny loves jumping the hurdles and showing off her speed over the A-frame, Kipper hasn't quite mastered this skill yet.
All three of these parks are family friendly and are great for social networking for both you and your dog.
There are lots of tasty sticks that your dog can find in these parks, just be wary that these can become lodged in their throats if swallowed or chewed. It is recommended that when playing with your dog in the park you provide appropriate toys such as; tennis balls, rope toys etc. to prevent harm to your dog and create an enjoyable and relaxed walk.
Dog Friendly Parks In Cheshunt
"PAMPERED PETS ARE HAPPY PETS"
The Grooming Shed offers a relaxed atmosphere, and caters to all your dogs needs. Your pet will be treated as one of our own and receive the care and attention your pet deserves.
While your pet is at the grooming shed they will have the time to rest, stretch their legs in the garden and have a drink of water, so their experience with us is enjoyable.
Dog Grooming Services in Cheshunt, Hertfordshire.
November 6, 2017
As a dog owner I have purchased many leads and harnesses over the years for my pooches, I think it is important for you to find a lead or a harness that suits both your dog and you as this will ensure a happy relationship between your dog and its walks.
Appointments Monday to Saturday with flexible times available.