Fleas and Ticks
February 3, 2017

Partners In Crime
February 3, 2017
Dog Grooming Maintenance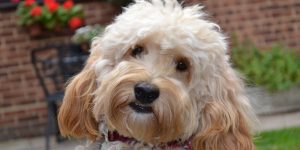 It is every groomers dream to have the perfect dog come in for their groom; a dog that leaps in the gate so excitedly, a dog that stands ever so still for you on the table, and leaves so happy and content with their new fur-do.
In many cases this is true, I have some lovely pooches who are always a joy to groom. However, on a rare occasion I will have a dog who can be very nervous, scared and who doesn't like being groomed at all. A way around this predicament would be regular grooming sessions and gentle encouragement in a quiet and calm environment.
I always ensure that the dog has regular breaks throughout the groom to provide them with a chance to stretch their legs, have a drink and a wander in the garden. These intervals help the process of a nervous dog becoming more familiar and comfortable with their surroundings.
This is reinforced with regular grooming sessions so that the pooch is relaxed in its environment and is also why it is very important to book your beloved companions in for regular grooming, to avoid any negative traits forming.
Dog Grooming Maintenance
"PAMPERED PETS ARE HAPPY PETS"
The Grooming Shed offers a relaxed atmosphere, and caters to all your dogs needs. Your pet will be treated as one of our own and receive the care and attention your pet deserves.
While your pet is at the grooming shed they will have the time to rest, stretch their legs in the garden and have a drink of water, so their experience with us is enjoyable.
Dog Grooming Services in Cheshunt, Hertfordshire.
November 6, 2017
As a dog owner I have purchased many leads and harnesses over the years for my pooches, I think it is important for you to find a lead or a harness that suits both your dog and you as this will ensure a happy relationship between your dog and its walks.
Appointments Monday to Saturday with flexible times available.